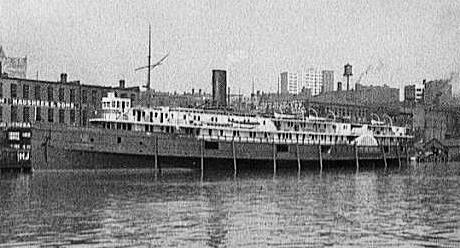 City of Cleveland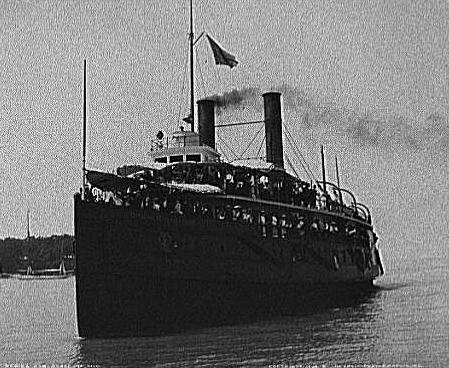 As State Of Ohio
The Ship With Three Names
By James Donahue
She was probably best remembered as the City of Alpena during her years on the Great Lakes, but the 225-foot-long steamship for the mighty Detroit & Cleveland Steam Navigation Company was christened with another name when it rolled off the ways at Wyandotte, Michigan, in 1880.
Her first name was City of Cleveland and some say the vessel carried a final name, State of Ohio, in its final years. She boasted an iron hull, an innovation from the Civil War years that preceded the steel hulled ships that were to follow. Strangely, the big wheels that powered the steamer from its sides, a trademark of all D&C steamships, came from an 1847 relic, the USS United States. Apparently that engine served the vessel well because there is no record of it ever being replaced while the vessel remained in service.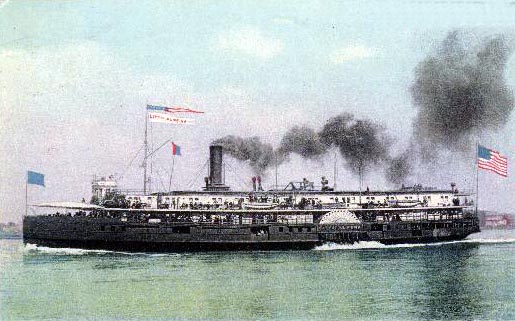 City of Alpena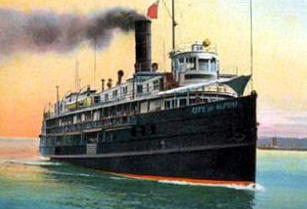 City of Alpena 1908
The vessel was built as a freight and passenger hauler on an original route between Detroit and Hancock, on Michigan's Portage Ship Canal through the Keweenaw Peninsula off Lake Superior. The name was changed to City of Alpena, apparently while still under D&C ownership, when the route was changed to a run between Detroit and Alpena in 1886.
The vessel was operating under the name City of Alpena when it collided with the Tecumseh on Lake Huron in May, 1887. Both vessels remained afloat and survived the crash.
When the D&C launched a new and more modern steamship under the name City of Alpena in 1893, this old iron lady was given her final name . . . State of Ohio. It was then put into service between Cleveland and Buffalo.
The State of Ohio was destroyed by fire at Cleveland on May 20, 1924. The ship burned to a total loss at her dock and one or two crew members reportedly perished. The iron hull was virtually indestructible and was rebuilt as a bulk freight barge. The barge was sunk at the end of the season in 1929 at Lorain, Ohio.