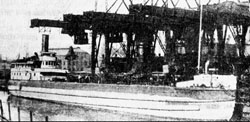 Choctaw
Saved from the Choctaw


By James Donahue
Some might have thought the whaleback Choctaw was jinxed. But that was a matter of personal judgment. The Choctaw claimed three lives when it blew a cylinder head on Lake St. Clair in 1893, a year after it was launched. After that its record was clean.

When the boat met an untimely end in a collision with the Canadian freighter Wahcondah off Presque Isle on July 12, 1915, all 20 members of the crew escaped. But there were some anxious moments.

Capt. Charles Fox said the two boats collided in thick fog about five miles off Presque Isle at 4:30 a.m. The Choctaw, a Cleveland-Cliffs Iron Co. steamer, was upbound from Cleveland to Duluth with coal, while the Wahcondah was downbound with grain for Montreal.

Fox said the Wahcondah emerged from the gloom without warning. She drove her bow deep into the port side of the ill-fated whaleback, between the number one and number two hatches. The sailors scrambled for lifeboats while the boat took an ominous list to port.

Everybody had just left the Choctaw when the vessel turned on its side and sank in 200 feet of water. The Wahcondah's bow was badly crushed, but it stayed afloat. The Canadian boat picked up the crew and then limped south to Sarnia, Ont., not arriving until the next day with the bad news.

Lake vessels weren't yet equipped with radios in 1915 so the full story of the accident wasn't told until the Wahcondah reached Sarnia and the crew of the Choctaw crossed the St. Clair River into Port Huron. By then, however, the word was already out that something terrible had happened to the Choctaw.

Capt. Nelson Brown, master of the steamer James H. Reed, discovered wreckage with the name Choctaw on it a few hours after the boat sank and the Wahcondah steamed off. Brown reported what he found when the Reed arrived in Sault Ste. Marie, and the story spread quickly via telegraph all up and down the coast. For a few hours it was feared that Capt. Fox and his entire crew were lost.

Their safe arrival at Port Huron was good news for the families.
Return to The Mind of James Donahue