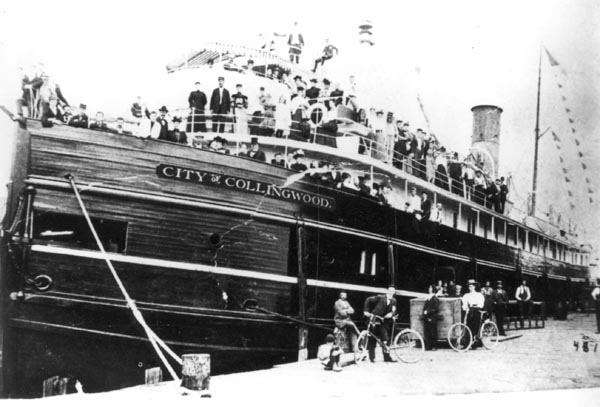 City of Collingwood
Death Trap City Of Collingwood

The fire that ravaged the Canadian steamship City of Collingwood had such a start by the time the watchman discovered it, four sailors sleeping in the forecastle were trapped behind a wall of flame.

Fireman James Meade and deck hands Lyman Peters, A. McLennan and another unidentified man perished in the fire which did its destructive work at Collingwood, Ont., in the early morning on June 19, 1905.

The boat's skipper, Capt. A. M. Wright, narrowly escaped. He went into the ship to rescue two other crew members and then found all exit ways blocked by flame. The three escaped by jumping from the hurricane deck to the dock.

Other sailors escaped by jumping overboard and swimming to shore. Local fire fighters rescued some of the swimmers. Many escaped still wearing their night clothes.

The fire spread to the Grand Trunk Freight dock where it consumed the wooden dock, company freight sheds and a row of five railroad cars before local fire fighters got it under control.

The Northern Transportation Co. steamer arrived at Collingwood the night before after a trip from Sault Ste. Marie. She had the steamer Brittanic in tow. The Brittanic, a sister ship, had been stranded on a reef and the City of Collingwood pulled it free before towing it into Collingwood.

The Brittanic was tied alongside the burning steamer and was nearly consumed by the fire as well. The vessel was badly scorched before harbor tugs pulled it out of danger.

The City of Collingwood was a wooden vessel built in 1893. After taking a party to the Chicago world's fair, the steamer served as an excursion liner on Georgian Bay and Lake Superior.

The vessel apparently had no passengers aboard when it burned. Its hold was filled with general merchandise that was to be removed that day for delivery to Collingwood merchants.

Because of the steamer's late arrival at 10:30 p.m., none of the cargo was unloaded the night before. Once it was moored, the crew went to bed.
Return to The Mind of James Donahue