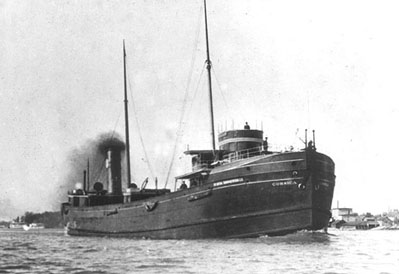 Corsica
The Corsica-Corsican Collision

Fog was an enemy to the lake boats when they were competing against the clock. To keep their schedules lake masters often broke navigation roles and kept their vessels operating at good steam even when the gloom was so thick they couldn't see more than 100 feet off the bow.

The steamer Corsica, with Capt. William Cumming at the helm, was moving across fog shrouded Lake Huron at an estimated 11 miles an hour when it ran down and sank an unidentified schooner off Thunder Bay on the morning of June 2, 1893.

It was later learned that the lost schooner was the Corsican, a vessel with an almost identical name as the steamer that struck it. The Corsican, under the command of Capt. Edward Burner of Detroit, was sailing from Cleveland to St. Ignace with a load of coal. It sank with its crew of five men.

The steamer's mate, who was at the helm when the accident happened, said there was no forewarning. He said the schooner appeared in front of the steamer so suddenly that neither he nor the other officers had time to react. The 300-foot-long steel steamship hit the smaller wooden vessel amidships, cutting it in two.

The Corsican sank so fast, Cumming said, that nobody on the Corsica had time to get the boat's name or even a good description of it. He said it was cut into two parts and disappeared within moments, leaving no survivors. In the wreckage was found a man's coat, which had a letter in a pocket. The letter, which did not have an envelope, was sent from Green Bay, Wisconsin. It was addressed simply to "Dear brother."

The hull of the ore laden Corsica was so badly damage the steamer also was sinking. Lifeboats were raised on the davits, but before they were launched, Cumming made a dash for nearby Alpena.

The steamer didn't make it to Alpena but it got to shallow water. Cumming saved his boat by grounding it on the nearest beach.

The Corsica was salvaged and remained on the lakes until 1926, when it was scrapped.
Return to The Mind of James Donahue