True Stories Of Ships And The Men That Sailed Them
Within these links are stories and pictures of ships and the men and women that sailed them, many of them lost at sea or on the Great Lakes.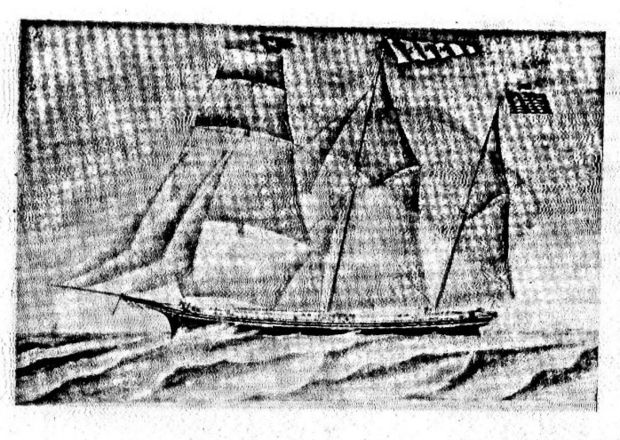 Schooner Nelson
Schooner Nelson Lost On Superior

It was May 13, 1899 and the big schooner Nelson was at the end of a line of two coal-laden sailing ships under tow behind the Great Lakes steamship Folsom. They had left Sault Ste. Marie and were making their way out into the open waters of Lake Superior when the vessels got caught in a fierce late winter gale off Grand Marais. Click For More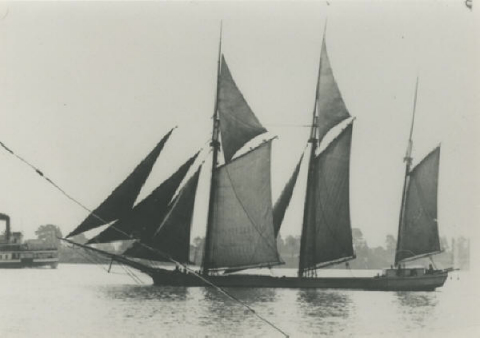 Lost Schooner Thomas Hume
The Mysterious Lake Michigan Triangle

Like the infamous Bermuda Triangle, where aircraft and ships mysteriously disappear without trace, Lake Michigan also has a place where an unusual number of unexplained mysteries have occurred. Some writers have noted these events and are dubbing the area the "Lake Michigan Triangle." Click For More

Almirante
Almirante Sunk in Collision

The steamship Almirante was carrying a cargo of fruit, mail and seven passengers when it was sunk in a collision with a U.S. Navy tanker off the New Jersey coast during the early morning hours of September 6, 1918. All of the passengers and all but five members of the crew miraculously escaped even though the 378-foot ship sank in just four minutes. Click For Story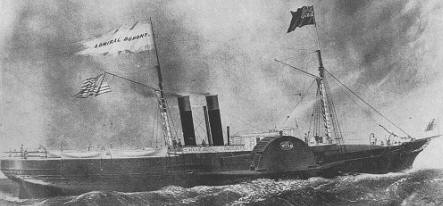 Admiral DuPont
Civil War Era Steamer Admiral DuPont

Named for Samuel Francis DuPont, a distinguished Union naval officer whose skills in commanding a fleet of ironclad warships during the American Civil War earned him the rank of rear admiral, the little iron hulled passenger and cargo ship Admiral DuPont not only participated in the war, but became one of its casualties. Click For Story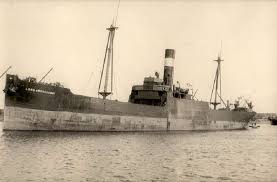 Gallois
Gallois Went Aground Fleeing U-Boat

The Gallois was a 321-foot merchant ship that holds the distinction of being one of nine vessels from World War II Convoy FS 559 that became disoriented in fleeing a German submarine attack and wrecked on the Haisborough Sands off the east coast of England. Click For Story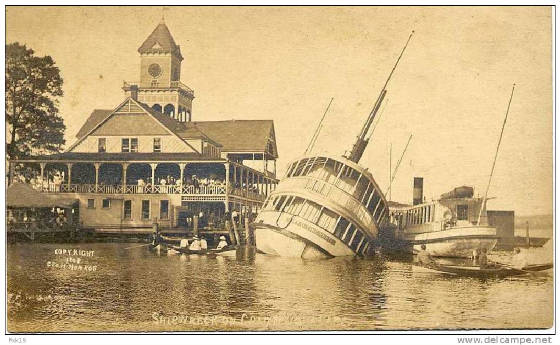 Sunk At The Dock
Excursion Boat City Of Cincinnati

When launched at Jamestown, New York in 1882, this 132-foot vessel began operating as an excursion ship on the Great Lakes under the name Cincinnati. In its day the steamer offered fine furnished cabins, fancy deck railings and colored sky-lights in the upper cabins. The competition on the lakes was fierce and by 1891 the Cincinnati was sold to the Chautauqua Steamboat Company for operations on Chautauqua Lake in the State of New York. For the next 35 years the vessel, renamed the City of Cincinnati, made three trips a day on the 17-mile-long trip between Jamestown at the southern end of the lake, and Mayville at the northern end. Click For More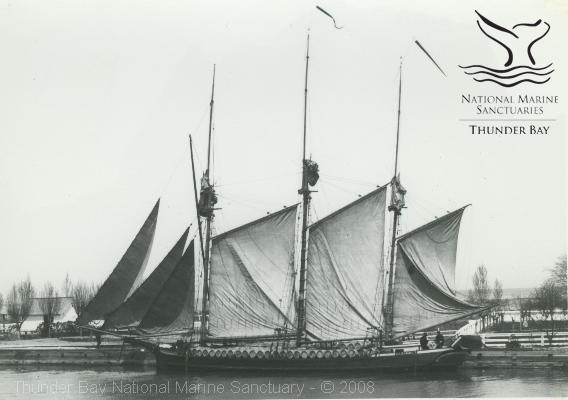 La Rubida
Christmas Tree Ship La Rubida

The 30-year-old schooner La Rubida was laden with 10,000 Christmas trees, probably bound for her home port of South Haven, Michigan, when it was driven ashore and wrecked near Naubinway on Lake Michigan, on November 25, 1906. Captain A. E. Dow and his crew of the 75-foot-long wooden schooner managed to escape to shore in spite of the bitter cold, and found shelter after spending a terrible night on the beach. Click For Story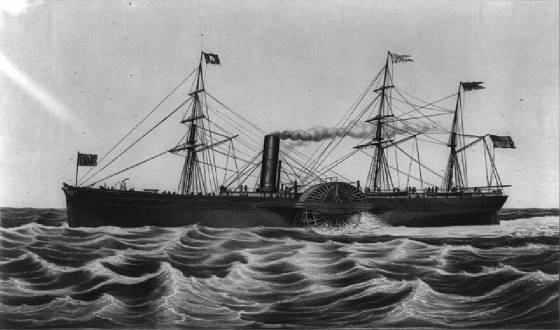 Arctic
The Arctic Disaster Of 1854

It was September 27, 1854 and the four-year-old Collins Line steamship Arctic was on the last leg of a voyage from Liverpool to New York when it ran into fog and collided with the French steamship Vesta off the Newfoundland coast. An estimated 400 passengers and crew members perished when the steamer foundered. Click For Story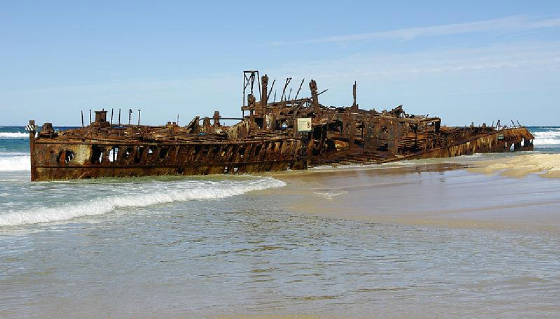 Wrecked Maheno
Mighty Maheno Lies Rusting

The 400-foot ocean liner Maheno has been a quiescent fixture on the sandy shore of Australia's Fraser Island since 1935 when a cyclone drove it hard aground. Once a proud liner for New Zealand's Union Company the wreck today is but a rusted curiosity piece for vacationing island visitors. Click For Story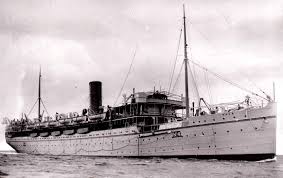 Rewa
U-Boat Sank Hospital Ship Rewa
The battle at sea during World War I was somewhat of a gentleman's war. German U-boat commanders were known to surface in front of cargo vessels and give crew members time to escape in lifeboats before sinking the ship. That is why the U-boat sinking of the British hospital ship Rewa, filled with 279 injured troops returning from Malta, off the English coast, raised a political storm.
Click For Story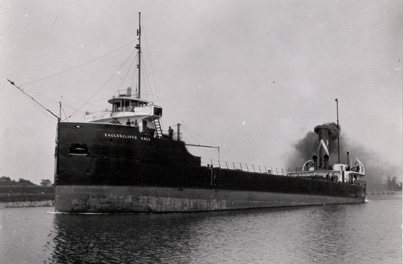 War Survivor Eaglescliffe Hall

At 253 feet the Eaglescliffe Hall was never meant to be anything more than a bulk freighter on the Great Lakes. Its length defines the vessel as a "canaller," which means it was designed to enter the lakes via the old Welland Canal locks. But when war came, this Canadian ship joined the North Atlantic merchant fleet, serving allied forces during the Second World War. Click For Story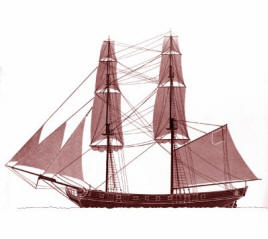 Brigantine

James L. Donahue is the author of four fine books crammed with Great Lakes shipwreck and shipping history. His books, available through Thunderbay Press, can be purchased on line at Amazon, Borders and other popular book sellers. They include Steaming Through Smoke and Fire, Steamboats In Ice 1872, Terrifying Steamboat Stories and Schooners In Peril.
All written material on this site is copyright protected. Reproduction on other sites is permitted if proper credit is given and the material is not sold or used for financial gain. Reproduction for print media is prohibited unless there is expressed permission from the author, James L. Donahue.